Revisting Trillian For Mac
11.11.2019
Feature/Component JIRA bug Participant Planned Release Short description Last Updated Comments Upgrades. Database upgrade. Schema versioning and tooling (jooq, etc). Agent upgrades. SystemVM upgrades. Cryptocard launches crypto-mas the first managed health.
Revisiting Trillian For Mac
Component/Plugin level upgrades. Config upgrades. Rollback support (Citrix) (ShapeBlue) (ShapeBlue) WIP FS: Is any of this complete? It seems that this covers several projects.
Improved System VM template management Process for 'seeding' and updatingsystemVMtemplates needs revamping. Installation of system VM templates could/should be handled by API. As should the installing of 'updated templates'. Initial seeding of templates can be handled by the create zone wizard - thereby allowing for 'default' templates or custom URLs to be used. Packaging Use embedded jetty 4.11 Better Log handling The CloudStack logs are often difficult to read due to the sheer volume of information which is output. This can be helped by revisiting classifications of log output such logging can be set to 'info' (rather than debug) - without losing important information.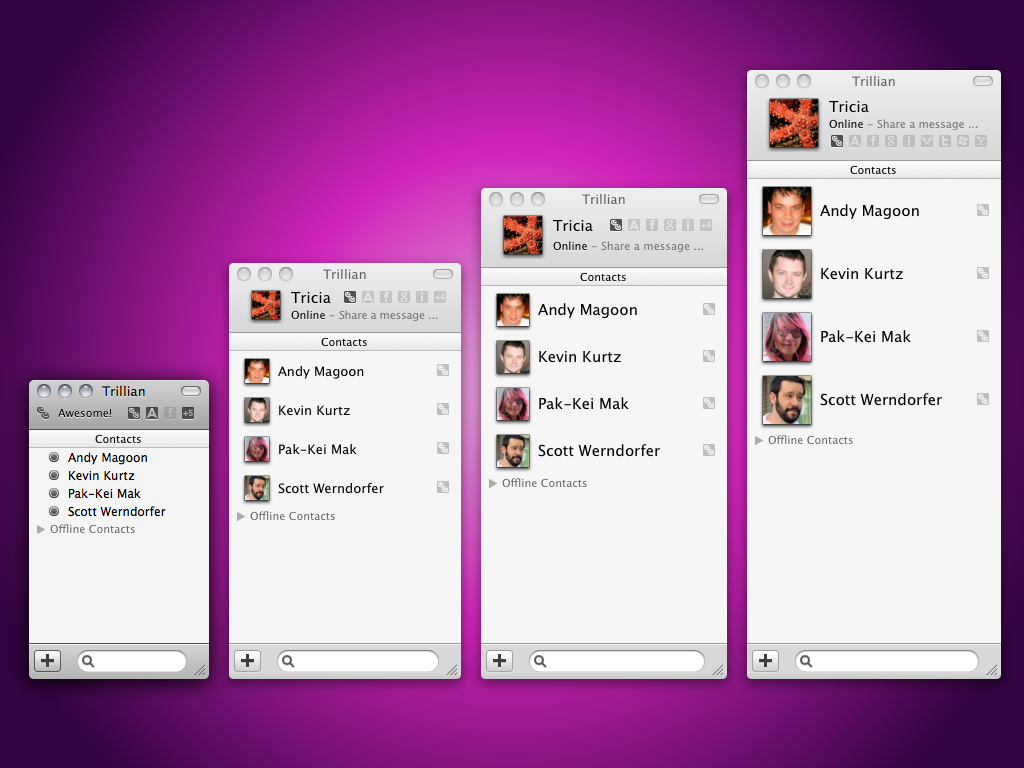 Messenger 10 beta) got us revisiting two others that were updated in the more recent past: the all-in-one chat clients Trillian Astra and Digsby. We enumerated.
Storage Shared data disk - Getting issue details. STATUS Very large percentage of enterprises use clustering for applications such as MS SQL. CloudStack cannot currently present a disk to multiple VMs Snapshots on SAN Mike Tutkowski and Syed Ahmed Ability to migrate secondary storage, (Leaseweb) Snapshot Improvements - Getting issue details.
STATUS (Citrix) Split volume snapshot process Allow VM snapshot and volume snapshots to exist together JIRA still open. 'Planned Release' needs changing Deploy user instance from VM snapshot - Getting issue details.
STATUS Support quick deployment of user instance from VM snapshot JIRA still open. 'Planned Release' needs changing Network Block creation of Basic Zones 5.0 Advanced Networking with Shared VLANs (vlan://untagged) offers the exact same functionality as Basic networking does. To be able to deprecate Basic Networking in the future we should prevent users from creating new Basic networks IPv6 - Getting issue details. STATUS - Getting issue details. STATUS 4.10 IPv6 support in Basic Networking: DST in egress ShapeBlue Netscaler integration - Getting issue details. STATUS - Getting issue details. STATUS (Citrix) 4.6 Integrate NCC with CloudStack to leverage ADC functionality and Additional Enterprise Features provided by NetScaler FS link JIRAs still open.
Revisting Trillian For Mac Crack
Make it easier for CloudStack service providers to add their own keyboards JIRAs still open. 'Planned Release' needs changing 3rd party library updates all A lot of libraries are outdated.effortneeds to go into upgrading those Perhaps too general. Can a specific list be added or can this task be removed since it may be part of any release or bugfiz? Architecture Multi-mangementserver aware agents - Getting issue details. STATUS, Nicolas Vasquez (ShapeBlue) 4.11 Management server(s) should publish a list of active management servers in failover order. The list should be dynamically updated according to load/availability/location ofindirectagent. Agents use this list.
May require also fixing management server clustering. Optimisation Metrics view 4.9 allow users to explore usage of underlying infrastructure (hosts) Dynamic resource scheduling for KVM/Xen server Presently, CloudStack manages KVM and XenServer hosts and allows for the placement and migration of the VMs via deploy and migrate API calls. Build an engine that can move VMs within a cluster based on CPU and Memory metricsitsalready exposed, to pack hosts, balance load, or move VMs to 'make space' for large VMs. Out of band management 4.9 power management of underlying hosts for power optimisation Customisable algorithms to enable automated power management.
Comments are closed.