Remote Installation Keylogger For Mac
03.11.2019
LIVE PANEL REMOTE KEYLOGGER N ew – Remote installation keylogger for Mac. Real-time monitoring, keystroke logging with screenshot capture, social network and application activity capture. Install remotely, perfect for monitoring your child's activity and ensuring their safety. One of the only remote installation applications for Mac available.
Any remote install keylogger Mac OS X that works in this way is illegal. Most anti-malware solutions immediately flag such software and disable it. Mac users often unknowingly download malicious keyloggers when they look for the best remote keylogger for Mac and stumble upon a site full of pirated software. Mac OS X provides support to install a software-based keyboard. Since a keylogger only detects keystrokes, you can continue to use your computer while inputting important data using the software keyboard.
Remote Keylogger For Mac
Features full control panel dashboard (very similar to mobile monitoring app's) allows you to sort through data easily and quickly, no need to sort through endless text files like other keyloggers. Simply click the type of the report you'd like to see – good stuff! The new remote installation feature for Mac is easier than any of its PC counterparts. Simply log into your dashboard, choose the options you like and click download. The remote install casule is located on your desktop and ready to send; and at 10KB it's smaller than a selfie. The entire process takes less than 5 minutes, and reports invisibly. There is no other keylogger for Mac with these features.
NOTE: For remote installation the capsule must be executed on the remote Mac. DISCLAIMER: SOFTWARE INTENDED FOR LEGAL USES ONLY. It is the violation of the United States federal and/or state law and your local jurisdiction law to install surveillance software, such as the Licensed Software, onto a mobile phone or other device you do not have the right to monitor. The law generally requires you to notify users/ owners of the device that it is being monitored. The violation of this requirement could result in severe monetary and criminal penalties imposed on the violator.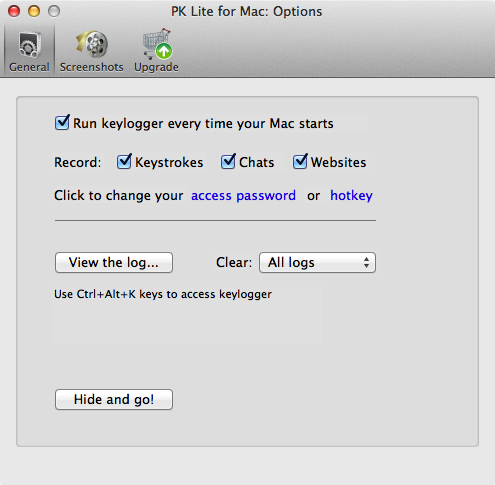 You should consult your own legal advisor with respect to legality of using the Licensed Software in the manner you intend to use it prior to downloading, installing, and using it.
Keylogger software can be used for many things. While most of us are only aware of malicious uses like identity theft or spying on a spouse, the best keylogger utilities can help safeguard your family. For Apple users, is one of the best alternatives to Remote Install Keylogger for Mac, and there are several features we've highlighted here that should help you make the decision to protect your family. It's categorized as Spyware for good reason: Keylogger programs are typically designed to operate in a covert manner, so the user of the system isn't even aware that their keystrokes and other activities are being tracked. More to the point, it is extremely useful for monitoring your kids' usage of your home computers and ensuring their safety online.
Elite Keylogger is virtually undetectable and, therefore, invisible. It not only monitors keystrokes, as all keyloggers do, but it does a whole lot more than that. With Elite Keylogger for Mac, you can do all of these things:.
Remote Install Keylogger For Mac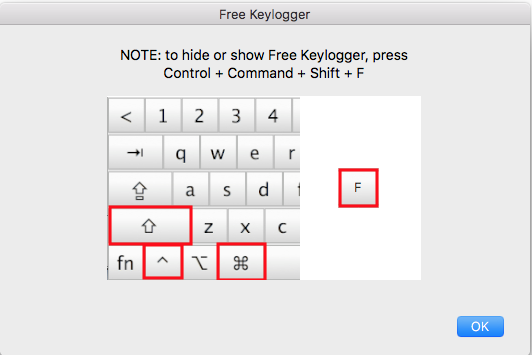 Free Keylogger Remote Install
Keep a record of all chat conversations on Viber, iChat/Messages, Skype and other chat apps, as well as all outgoing emails. Are your kids being targeted by cyberbullies? With this utility you can make sure they're not subjected to traumatic experiences online. With Elite Keystroke Detector you can monitor other computers remotely, and have the logs emailed to you. So, even if you're travelling, this remote Keylogger can help keep an eye on your computer's activity at home. Keeping your family safe has never been this easy.
Elite Personal Monitor allows you to log every URL visited on every possible browser, along with timestamps so you know exactly when it happened. Nothing better to make sure you're kids aren't going to inappropriate sites on the Internet. App Monitoring is another important feature here.
Keep tabs on what applications are being launched, along with timestamps, and even see periodic screenshots. All of this is recorded for your convenience, and the safety of your family. Elite Keylogger also captures clipboard content, so any passwords that are copy-pasted can also be tracked alongside typed passwords. This allows you to change passwords for applications and sites that you feel aren't appropriate for your kids.
Remote Keylogger Free
This is one of the best Mac Keylogger utilities you're likely to find out there. The UI is clean and intuitive, it's super-easy to use even if you're totally a tech noob, and the best part is that there's a free version with robust basic functionalities you can take advantage of before you're ready to go pro. If the online security of your family members is important to you, the is the tool you want defending your loved ones.
Comments are closed.