Flashdevelop For Mac
01.08.2019
Firstly, if you have not tried Digital Ocean's for only $5/mo, I highly recommend them! In this post, I'll explain how to make FlashDevelop much more comfortable for an FDT user. FDT is a great tool for Flash development but I found FDT 4 to be a real dog. I loved FDT 3 but I was forced to upgrade to FDT 4 because some newer syntax wasn't supported. Using Eclipse has always been about a 20% love and relationship. Eclipse has gotten slower and slower and more bloated over the years.
Via Adobe AIR you can compile for iOS, and with the AIR SDK FlashDevelop can compile AIR / iOS. I don't think they have FlashDevelop for Mac, though.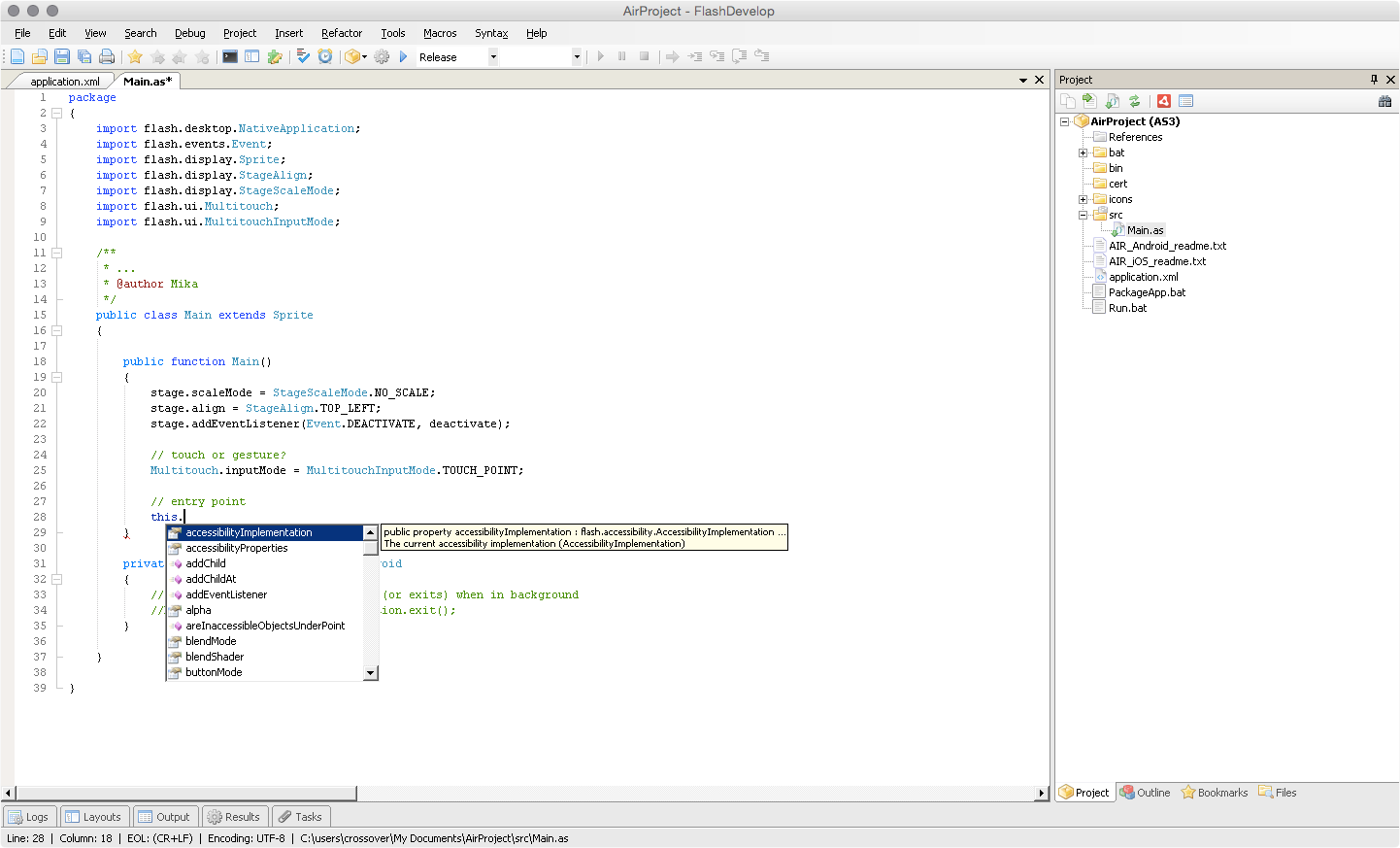 With FDT 4 constantly freezing and eating over 1GB of ram (even on the tiniest of projects), I've decided to make a real effort to jump ship and try FlashDevelop. I'm working on a large project and FlashDevelop is using about 120MB of RAM after being open for a day! FlashDevelop's features have grown a ton over the years and the community support is great. You can even write plugins without having to get your Masters in Eclipse Plugin Development. Steps I took: 1. Install FlashDevelop 4: When you download FlashDevelop plugins, you will copy them to:%localappdata% FlashDevelop Plugins 2.
Install the QuickNavigate plugin This will let you navigate to class members using Ctrl+Shift+O. You can change this shortcut in Program Settings (F10) to Ctrl+O to mimic FDT. Then remove default Ctrl+O shortcut for Open in Tools Keyboard Shortcuts. Install the Ant plugin If you don't use Ant, you can skip this.
Flashdevelop For Mac
Make sure to download the version for FD4. You'll also need the Ant runtime: In Program Settings (F10) under AntPlugin, set Path to Ant to your Ant runtime folder. Customize your keyboard shortcuts Open Tools Keyboard Shortcuts. Then change: - EditMenu.Redo to Ctrl+Shift+Z - RefactorMenu.CodeGenerator to Ctrl+1 - ProjectMenu.OpenResource to Ctrl+Shift+R - SearchMenu.ViewReferences to Ctrl+R - SearchMenu.GotoDeclaration to F3 - SearchMenu.QuickFindNext to Ctrl+D or Ctrl+K - EditMenu.MoveLineDown to Alt+Down - EditMenu.MoveLineUp to Alt+Up - RefactorMenu.OrganizeImports to Ctrl+Shift+O - ModifyMenu.Reload to None - EditMenu.DuplicateSelection to None - NewMenu.AS2Document to None I'll update this post as I discover more.
Comments are closed.